&nbsp
"If you want things in your life to change, you have to change things in your life."
Have you been experiencing a significant amount of anxiety? Feeling depressed much of the time? Would you like to acquire valuable tools and ways to improve and integrate your life? You've come to the right place. The main goal of our counseling center is to offer you a place to experience light and healing in our home /office, that has been created for you - the client. We believe that counselling is about journeying together in relationship, telling your story along with both facing and going through the pain; in order to see healthy changes that begin to take place in your life (lives). Therefore, the main thing that I want to express to you here and now is that in the midst of the pain and despair, there is always hope. The hope of you journeying and discovering wellness and integration in all of your life. Embracing the mystery and the grace in our lives is what we are all about. So give us a call if you want, in order to set up a confidential assessment session. You may choose to meet face to face in our home office, or via Skype video.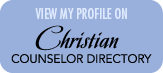 A note about confidentiality: All of our services are based on a confidentiality agreement. There are two legally mandated exceptions:incidences of suspected child abuse and where harm to one's self or another person is intended.